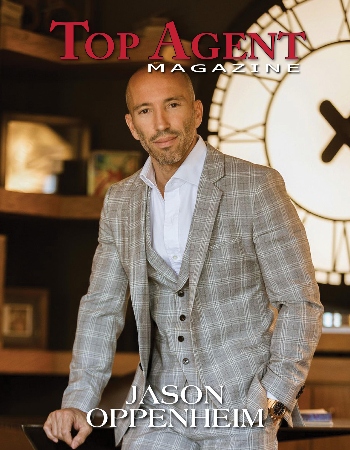 Jason Oppenheim's talent for real estate is abundantly clear. It's seen in the way his team works, from their efficient and open communication to their strong negotiations. It's seen in his ability to put together a transaction in a seamless way and earn the trust of high profile clientele. And it's seen in the way service, friendship and connection are artfully woven into his business. He makes it look easy, but behind that ease is years of practice and the tireless pursuit of growth.
Real estate comes naturally to Jason partly because of his family's involvement in it, which spans multiple generations and originates with his great-great grandfather, Jacob Stern. At the turn of the 20th century, Jacob was establishing himself as a prominent real estate entrepreneur in Los Angeles, founding and leading The Stern Realty Co. He acquired some notable properties during his life, including a personal five-acre residence at the corner of Hollywood and Vine. The horse barn on the property was leased and converted into one of Hollywood's first film studios in 1913, and is often referred to as the birthplace of the entertainment industry.
Each subsequent generation of the family remained involved in the real estate industry of greater Los Angeles. Receiving his undergraduate and law degrees from UC Berkeley, where he ranked first in his class, Jason initially pursued a career as a lawyer. He joined a prominent international law firm and represented notable CEOs and top corporations, but eventually felt drawn into the real estate world. "After working as an attorney for many years, I wanted to find something I was more passionate about," Jason explains. It wasn't long before Jason became a top agent in Los Angeles, building out a team that was recognized as #1 in the West Coast. Three years later he founded The Oppenheim Group. Known for breaking records, including the largest sale ever recorded and the highest-priced sale per square foot, The Oppenheim Group has captured the attention of the world's most affluent individuals.
With office locations in West Hollywood and Newport Beach, they're closing hundreds of millions of dollars in transactions each year. Their West Hollywood location is familiar to many who watch Selling Sunset on Netflix, which centers upon Jason's team. "The West Hollywood location consists of some of my closest friends," Jason explains. Capturing Los Angeles' fast-paced market, luxury homes in stunning locations are part of every episode. Handling these coveted properties requires immense experience and knowledge, something that The Oppenheim Group has in spades. And while the group helps one another out frequently, Jason remains very connected to his clients. "I'm still personal with them," he says. "I only have a cell phone, no office line. And I often communicate with clients myself rather than delegating to other agents." Maintaining those relationships is one of Jason's favorite parts about what he does. "Los Angeles is home to some of the best real estate in the world, so we have very interesting clients."
Delivering the best experience possible to each client is the cornerstone of Jason's business. He sets them up for success, whether it's negotiating to get them into the home of their dreams or finding the right buyer for their listing. Utilizing social media, online marketing, print advertising, and word of mouth to spread the word about his properties, Jason is able to close sales quickly and efficiently. Prior to listing a home, he ensures they are looking their best. "We focus on the presentation of a property beforehand, and we even have a concierge service that can help get the home ready for sale. We really like to have a property looking as new as possible before we photograph and get them to market, so that often means staging, painting, landscaping and sometimes a light remodel." Then, he makes sure it is listed at an appropriate price, which quickly sparks buyer interest.
Although Jason spends much of his days working, he carves out time for other activities he's passionate about. "My team and I are involved with a non-profit called Food on Foot, which provides food, clothing, and more to those experiencing homelessness or low income." He also loves to travel, collect vintage sports cards, and spend time with his friends and his two beloved chihuahuas.
Jason sees his business growing organically with each passing year, and his goal is to maintain a steady upwards trajectory. "I would consider opening another office, but right now I am not trying to expand too quickly," he explains. "I want to keep our level of service as high as possible, and my top priority is making sure I have time for my clients."
While his success in this industry is truly unmatched, Jason never loses sight of what he loves most about his work. "I have the best job in the world. The people I get to work with and the people that I represent are what makes it all worthwhile."
For more information about Jason Oppenheim and The Oppenheim Group, please email jason@ogroup.com
Agent Reviews Leave your rating
Sort by:
Be the first to leave a review.
{{{ review.rating_title }}}
{{{review.rating_comment | nl2br}}}
Show more